In short, an acrylic coated tablecloth is a type of wipe clean tablecloth that has been coated with a layer of acrylic. This coating serves as a barrier that helps protect the tablecloth from spills and stains, making it more durable and easy to clean.
In addition to this coating, the fabric is immersed in a hot bath of 'water repellent' solution which completely covers every fibre of the fabric. There are different types of this solution, but the most commonly known one is the brand name Teflon. This is why acrylic coated tablecloths are also known as Teflon tablecloths.
The water repellent solution causes liquid to sit in a pool rather than absorb in to the fabric when liquids are spilled.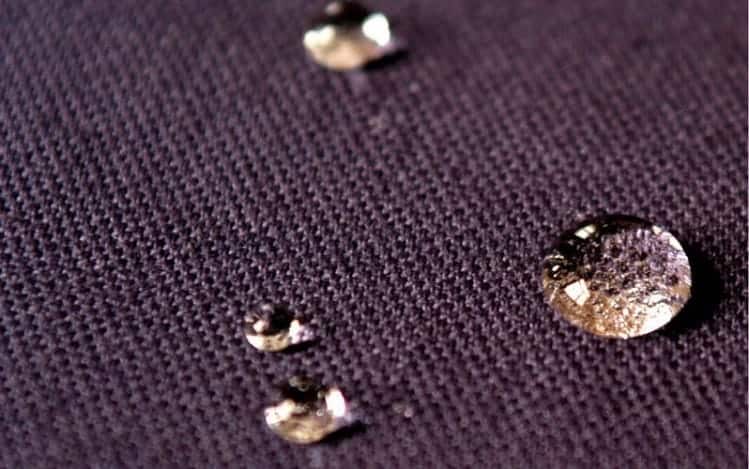 Benefits of Acrylic Coated Tablecloths
Acrylic is a synthetic polymer that is known for its resistance to water, mildew, and other types of damage. It's commonly used as a coating for textiles, including tablecloths, to improve their durability and stain-resistance.
The main benefits include:
Easy care – The acrylic layers and treated fabric make it difficult for spillages to stick to the fabric which makes wiping any mess really easy.
Stain resistance – The acrylic layers make it harder for stains to penetrate, however, this does not make them stain-proof. Your usual staining culprits can still leave a stain if left long enough. Wiping these as soon as possible minimises any risk of staining.
Water-proof – Part of the manufacturing process immerses the fabric in a hot bath of 'water-repellent' solution which completely covers every fibre of the fabric. This treatment causes liquids to bead up on the surface of the fabric instead of being absorbed.
Natural feeling – Compared to any other type of wipe clean tablecloth that have a plasticky feeling, acrylic coated tablecloths feel more like a natural tablecloth. The acrylic coating provides strong protection but does not have a thick layer, like oilcloths for example. –
They are machine washable – Unlike any other type of wipe clean tablecloth, acrylic tablecloths can be machine washed on an infrequent basis. This keeps them looking newer for longer and removes any dirty that may build up on the underside of the tablecloths.
Provide a cost saving in a commercial setting – Restaurants and cafes can benefit from not having to spend on laundry costs to maintain their traditional tablecloths. A simple wipe clean makes them ready to reuse again, and once in a while they can be machined to freshen them up.
Additional Benefits Of Acrylic Tablecloths Ordering From Simply Tablecloths
In addition to the features of acrylic coated tablecloths, our fabrics are:
Available in a wide range of designs – Acrylic tablecloths are available in range of designs from plain, to floral to spotty, Simply Tablecloths has the biggest range on the market.
Cut to shape and size – All of our acrylic coated tablecloths are made to order so we can cut the exact width and length you require to give you the perfect overhang. We can cut and finish rectangles, squares, circles and oval shapes.
Available in extra wide widths – Finding quality extra wide wipe clean tablecloths is hard. We have a large selection of acrylic tablecloths that go up to 180cm wide without any joins.
Available in different edge finishes – Our acrylic coated tablecloths can be hem finished or edge bound in coloured binding to give the edges a neat finish.
Are Acrylic Coated Tablecloths Safe?
Acrylic coated tablecloths are perfectly safe for use in households and commercial settings. They free of phthalates and are non-toxic which makes them safe for food contact.
They only become harmful if heated to extreme temperatures that affect their chemical make up.
Can You Wash Acrylic Coated Tablecloths?
Acrylic coated tablecloths are the only type of wipe clean tablecloth that can be machined washed. They should only be washed infrequently at a maximum of 40c.
Read our full guide on how to care for acrylic coated tablecloths here.
Not All Acrylic Coated Tablecloths Are The Same
There are many acrylic coated tablecloths on the market, however, they are not all made equally and each go through a different manufacturing process.
Acrylic Coated Tablecloths offer a superior level of protection against stains, and the key lies in their unique coating. It's been discovered that using two thin layers of acrylic coating is more effective than a single thick layer.
In addition, the quality of the stain proofing treatment also plays a significant role. When it comes to long-lasting protection, DuPont Teflon is the go-to choice, as it outperforms generic stain proofing treatments by a considerable margin.
At Simply Tablecloths, we pride ourselves on quality products and our acrylic coated tablecloths undergo multiple industrial processes and various raw materials are used to create the finished product making them the most robust wipe clean tablecloths on the market.
View our range of acrylic coated tablecloths here.
FAQs
Are Acrylic Tablecloths Stain-Proof?
Acrylic coated tablecloths are not stain-proof, however, they do have properties that make them more stain-resistant than other types of wipe clean tablecloths.
Are Acrylic Tablecloths Food Safe?
Acrylic tablecloths are non-toxic and are perfectly safe for food contact.