Oilcloth and PVC are two terms that interchangeably used which causes a lot of confusion about the difference between the two.
The truth is both oilcloth and PVC contain PVC which is the reason for the confusion. However, that's where the similarities end.
The main difference between oilcloth and PVC is in base fabric and coating. Oilcloth a woven base fabric and clear PVC coating on top, where PVC is just a single sheet of plastic with no base fabric or coating.
Let's look closer at all of the differences below.
Oilcloth Vs. PVC Comparison Table
| Feature | Oilcloth | PVC |
| --- | --- | --- |
| Top coating | Clear PVC | None |
| Base fabric | 100% Cotton | None |
| Thickness | Thicker | Thinner |
| Durability | Higher | Lower |
| Finishes | Matt & Gloss | Matt only |
| Max Width | 132cm | 140cm |
| Washable | No | No |
| Finished Edges | Optional edge binding | Optional edge binding |
| Cost per meter (approx') | £15.00 | £8.00 |
Oilcloth vs PVC compared
Oilcloth Explained
Oilcloth is a material that is created by applying a design to a plain woven fabric, typically cotton, using digital printing.
The fabric is then coated with a layer of clear PVC, which can have a gloss or matt finish. This coating makes the material waterproof and durable, making it useful for items such as tablecloths, aprons, and outdoor gear.
The term "oilcloth" originated from the traditional method of coating fabric with oil or a similar substance before PVC was used today. The PVC used today is the root cause of confusion between oilcloth and PVC tablecloths.
Related read: What Is A Oilcloth Tablecloth?
Identifying Oilcloth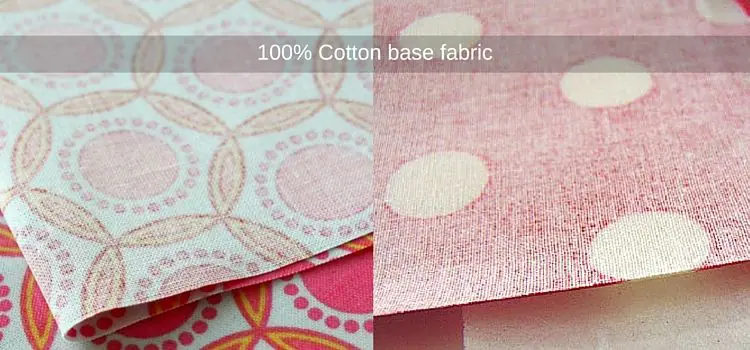 You can identify oilcloth by looking at the base fabric and coating.
If you look at the underside of oilcloth, you will see it is a natural woven fabric like cotton (see the image above). It will be uncoated and unprinted, and you may see the top side print through the weave.
The top side will have a clear coating which can be a matt or gloss finish. You will be able to see printed design is underneath this coating.
Pros & Cons Of Oilcloth
Base fabric and PVC coating makes it more durable than PVC
Can easily be cut with a pair of scissors
Does not fray
Matt and gloss finishes available
More expensive than PVC
Not machine washable
Top PVC coating may feel too plasticky so some people
Has a maximum width of 132cm which is too narrow for larger tables
We sell high quality oilcloths that can be cut to shape and size to fit your table. View our oilcloth range here.
PVC Explained
A PVC tablecloth, also known as a vinyl or plastic tablecloth, is a type of table covering made from a single sheet polyvinyl chloride (PVC) plastic. The design is printed directly on top of this PVC layer and a thin non-woven fabric is applied to the back.
Identifying PVC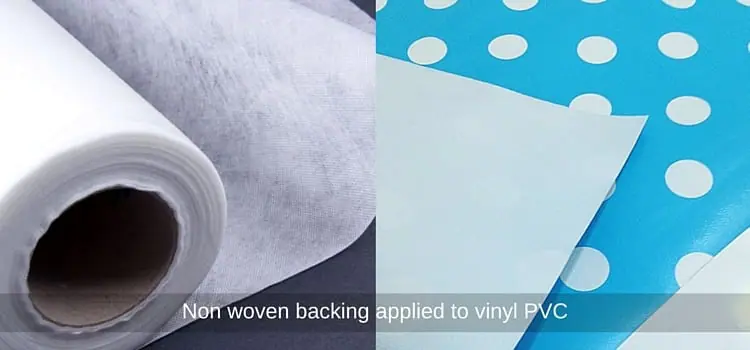 PVC can be identified by looking at the top side of the fabric to see if it has any coating applied on top of the design.
PVC tablecloths do not have any coating, so if you can see/feel a clear coating, then it is either an oilcloth or acrylic coated tablecloth.
The other way to tell if you have a PVC tablecloth is by looking at the underside. It will have a non-woven backing (like in the image above) instead of a woven textile base like cotton.
Pros & Cons Of PVC Tablecloths
PVC is cheaper than oilcloth
Can easily be cut with a pair of scissors
Does not fray
Ideal solution if you want a cheaper table cover
Less durable than oilcloth as there is no base fabric or top coating
More ridged than oilcloth and does not drape as nicely
Some people may not like the thin feel
Not machine washable
Has a plastic feel
Design can fade over time due to the lack of protection
How To Tell The Difference Between Oilcloth and PVC
The easiest way to tell without actually feeling the fabric is by looking at the price. Oilcloth is more expensive than PVC – almost twice the price.
In the UK, quality oilcloth typically sells for around £14-18 per meter depending on where you buy from.
Any place claiming to sell oilcloth at a lower price than this (normally around the £10 p/m mark) is probably selling you a lower quality, thinner version. Which we know exists on the market. So just be mindful if the quality is important to you.
If you had both in your hand you would notable tell that oilcloth is a thicker and more durable fabric.
Another sign that you are looking at oilcloth when looking up close, is that the design appears to be underneath the coating. Whereas with vinyl PVC, you can quite clearly see the design on the very surface.
A Natural Feeling Alternative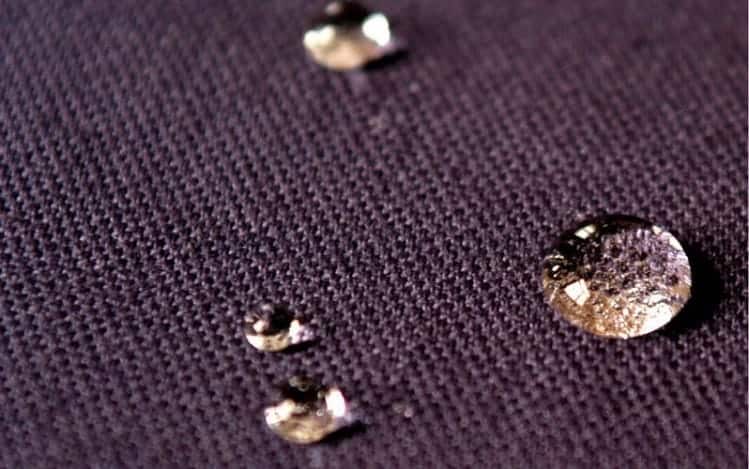 Oilcloth and PVC tablecloths can have a 'plasticky' feel that some people may not like.
Acrylic coated tablecloths have a softer and natural feel compared to oilcloth and PVC which provides a perfect balance of look, feel and functionality.
Acrylic coated tablecloths also offer better stain-resisting properties, which does not mean they are stain-proof, but they hold up better than oilcloth and PVC fabrics.
They can also be machined washed infrequently which helps them stay looking newer for longer while keeping hygienically clean.
Read our full guide and benefits of acrylic coated tablecloths here.
Or, browse our range of acrylic coated tablecloths here.