A Oilcloth tablecloth is a type of wipe clean tablecloth that is made from a cotton fabric that has been coated with a layer of clear PVC. The PVC coating serves as a barrier that makes the topside waterproof which helps protect the tablecloth from spills, making it more durable and easy to clean.
Oilcloth is often confused with PVC tablecloths. This is because both products contain PVC, however, they are very different fabrics.
Related read: Oilcloth vs PVC – What's the difference?
Brief History Of Oilcloth Tablecloths
The history of oilcloth dates back to around the 18th century when it was first produced by coating cotton or linen fabric with linseed oil. This is where oilcloth originally got its name "oil-cloth".
This was used for a variety of purposes such as coats, tents and bags etc, to protect from rain. The usage of oilcloth reduced with better manufacturing methods and materials available.
However, in more recent times, oilcloth has made a resurgence and has become more fashionable.
Today, it's technically a laminated cotton, however, the traditional name of oilcloth has stuck and is still used as the name of the fabric seen today.
How Oilcloth Tablecloths Are Made Today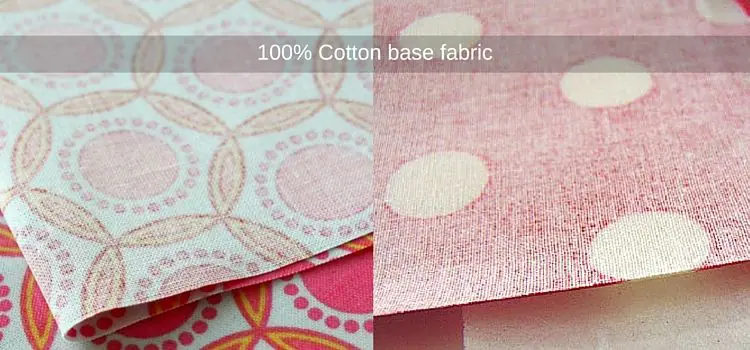 Today oilcloths go through a 3-stage manufacturing process.
Firstly, a roll of pure cotton is produced and bleached to remove any potentially hazardous mold, fungi, bacteria, and other contaminants.
Secondly, the plain cotton roll then has the design/pattern and colour printed to one side of the fabric.
Lastly, the design side is then laminated and coated with a clear PVC to provide the waterproof and durable protection.
Benefits Oilcloth Tablecloths
Oilcloths are popular because they are:
Waterproof and easy to clean – Only the top side is waterproof because of the coating it has. This makes wiping spillages easy.
Durable and long-lasting – The PVC coating is very durable and can withstand day to day use (even with kids) with ease.
Available in a variety of colours and patterns – As designs are printed on the fabric, you will find there are hundreds of designs and colours available. This makes finding something that matches your decor very easy.
Suitable for indoor and outdoor use – In summer, you can use your oilcloth tablecloth in the garden to protect your table. Just make sure to not leave it outside to battle the elements.
A Cost-effective option – The durability and ease of cleaning properties of oilcloth make it cost effective as it will not have to be replaced and you will save on any laundry costs compared to a traditional tablecloth.
Buying a oilcloth tablecloth from Simply Tablecloths gives you added benefits of it being cut to size and shape and it is also available in different edge finish. See our range of oilcloth tablecloths here.
Drawbacks Of Oilcloth Tablecloths
You should also be aware that oilcloths are:
Not machine washable – The PVC coating will get damaged and could tear the fabric in a washing machine.
Hard to clean the underside – This is a problem that happens with time, but as the base fabric is made from cotton, it can become dirty overtime and it can be hard to clean as you can not machine wash it.
Not the softest feeling wipe clean tablecloth – The thick PVC coating gives the fabric a slight plasticky feel to it which takes away a softness feel.
Limited in widths available – You find most oilcloth tablecloths have a maximum width of around 132cm – 136cm. For larger tables, this leaves you with limited overhang.
Prone to staining – While the PVC coating offers some protection against stains, it is very limited. Any usual staining culprit (like curry sauce) will still penetrate the coating if left long enough.
How To Maintain & Care For Oilcloth
Oilcloth tablecloths are simple to care for. When a spillage happens, you just need to wipe it off using a damp cloth. Never machine wash a oilcloth tablecloth as you will damage the coating.
Make sure to wipe clean any mess that could potentially stain the fabric as soon as practically possible. If left for too long, stains can penetrate the coated layer making them difficult to remove.
If you do have a stain, it is recommended to use a citrus based cleaner to help remove it.
A More Natural Feeling Oilcloth Alternative
If you are looking for a more natural feeling wipe clean tablecloth that has better wipe clean properties than oilcloth, then you should consider buying an acrylic coated tablecloth (sold here).
Acrylic coated tablecloths are made from a poly-cotton blend which is more durable than 100% cotton. They have two layers of acrylic which provide better stain-resisting properties (note: this does not make them stain-proof) and are infused with water-repellent solution, like Teflon, to give them the ultimate wipe clean finish.
Read more: Acrylic Coated Tablecloths – What Are They?
Related Reads