Choosing a type of wipe clean tablecloth can be confusing with all the different fabrics available.
Two popular types of wipe clean tablecloth is oilcloth and vinyl. The main different between the two fabrics is that oilcloth is made from woven base fabric like cotton and is finished with a clear PVC coating. Vinyl on the other hand is a single sheet of PVC that has no base fabric and no coating.
Let's explore the full differences below…
Oilcloth Vs. Vinyl Comparison Table
| Feature | Oilcloth | Vinyl |
| --- | --- | --- |
| Top coating | Clear PVC | None |
| Base fabric | 100% Cotton | None |
| Thickness | Thicker | Thinner |
| Durability | Higher | Lower |
| Finishes | Matt & Gloss | Matt only |
| Max Width | 132cm | 140cm |
| Washable | No | No |
| Finished Edges | Optional edge binding | Optional edge binding |
| Cost per meter (approx') | £15.00 | £8.00 |
Oilcloth vs Vinyl compared
Oilcloth Explained
Oilcloth is a material that is made by taking a plain woven fabric, typically cotton, digitally printing a design on to the surface and then coating it with a layer of clear PVC. This layer is either a gloss or matt finish.
This coating makes the material waterproof and durable, making it useful for a variety of applications such as tablecloths, aprons, and outdoor gear. It is also popular in arts and crafts as the woven base allows for it to be sewed.
Traditionally, oil or a similar substance was used to coat the fabric before PVC. This is where the term 'oilcloth' came from.
Related read: What Is A Oilcloth Tablecloth?
How To Spot Oilcloth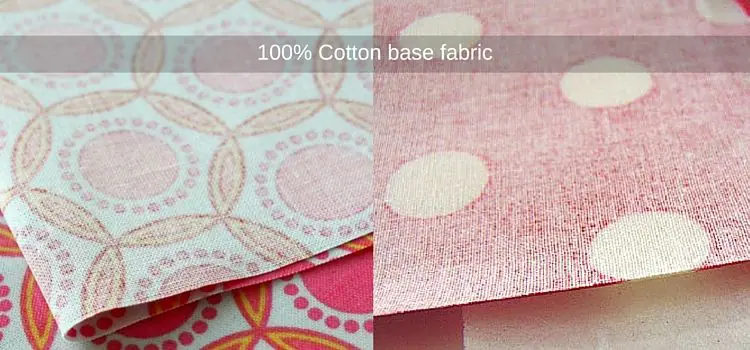 The easiest way to tell if you are looking an oilcloth is to look and feel the underside and top side.
The underside (as seen in the image above) will be a woven fabric, usually 100% cotton. It's usually white and you should be able to see some of the topside design coming through the woven fabric.
The top side will have a clear PVC coating, which can be a gloss or matt finish.
Pros & Cons Of Oilcloth
Base fabric and PVC coating makes it more durable than vinyl
Can easily be cut with a pair of scissors
Does not fray
Matt and gloss finishes available
More expensive than vinyl
Not machine washable
Top PVC coating may feel too plasticky so some people
Has a maximum width of 132cm which is too narrow for larger tables
Vinyl Explained
A vinyl tablecloth, also known as a PVC or plastic tablecloth, is a type of table covering that is constructed using a single sheet of polyvinyl chloride (PVC) plastic. The design, pattern or print is directly printed on the PVC layer, and the back of the tablecloth is supported with a thin layer of non-woven fabric for additional stability and durability.
How To Spot Vinyl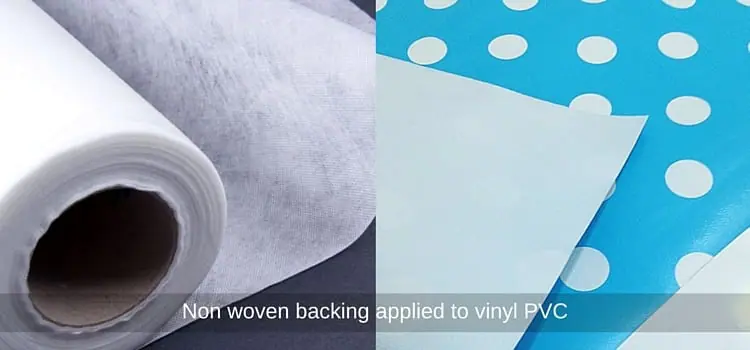 The first sign to check if you are looking at a vinyl fabric is the underside.
Vinyl does not have a woven base, and instead, a non woven backing is usually applied (as seen in the image above). As vinyl is made from a single sheet of PVC, the underside will be blank white.
When looking at the topside, you will notice that no coating is applied to the surface and the design is exposed. The lack of a base fabric and coating will give the vinyl fabric a very thin and flimsy feel compared to oilcloth.
Pros & Cons Of Vinyl
Vinyl is cheaper than oilcloth
Can easily be cut with a pair of scissors
Does not fray
Ideal solution if you want a cheaper table cover
Less durable than oilcloth as there is no base fabric or top coating
Some people may not like the thin feel
Not machine washable
Has a plastic feel
Does not drape as well as oilcloth because it is more ridged.
A More Natural Feeling Option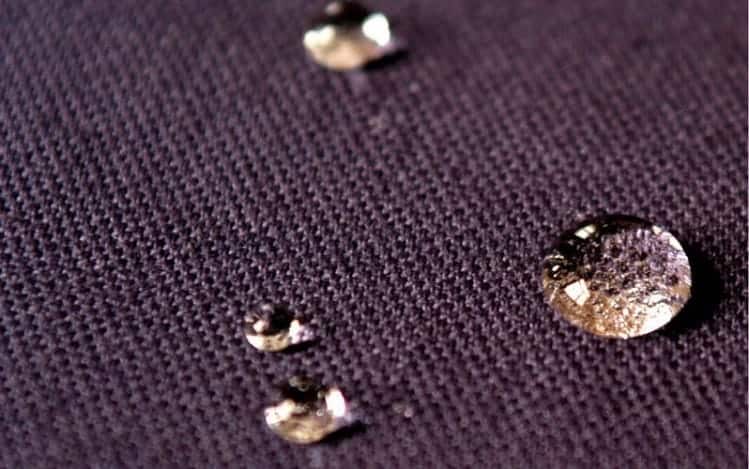 If you don't like the plasticky feel oilcloth and vinyl fabrics have, then you should consider buying an acrylic coated tablecloth instead.
Acrylic coated tablecloths have a much softer feeling than oilcloth and vinyl which enables them to drape similar to a normal tablecloth.
In addition to the feeling, acrylic tablecloths can be machine washed infrequently to keep them looking newer for longer and hygienically clean. They are also available in extra wide widths up to 180cm.
You can read more on the benefits and what acrylic coated tablecloths are here.
Or you can browse our huge range of acrylic tablecloths designs here.